Citi-Cargo & Storage: Buy, Lease or Rent Portable Storage Containers in Minneapolis
Minneapolis' Citi-Cargo & Storage offers on-site storage containers, portable storage units and mobile storage.
On-Demand Storage Units in Minneapolis
Citi-Cargo & Storage provides affordable, safe, secure, weather-resistant storage on-demand virtually anywhere in the Minneapolis metro area. Available in small, medium or large, we offer:
Unique to Minneapolis: 15' and 20' Size Shipping Containers
Did you know? Citi Cargo & Storage offers storage unique unit sizes unique to Minneapolis and the Twin Cities Metro.  These 15- and 25-foot units have full ISO/shipping container specifications. They offer added security (lock boxes), easier operations (waist-high handles and rubber-coatings), as well as corner castings and forklift pockets.
Rent, Lease or Purchase Storage Units from a Trusted Minneapolis Supplier
With over 100 years of experience in shipping container sales, Citi-Cargo & Storage is a trusted provider of the containers to a wide range of industries in Minneapolis, including construction site storage, landscaping, schools, fairs and festivals, grocery and beverage, and more.
Citi-Cargo shipping containers are secure and weather resistant, with heavy-duty flooring and high quality steel construction. We offer fast and on-time delivery.
Learn more about Citi-Cargo & Storage containers.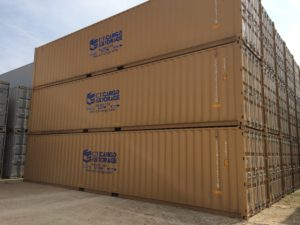 Storage Container Selection Guide
A convenient and helpful guide to storage container sizes and options.
Request Quote
A Minneapolis company, let Citi-Cargo & Storage find the right onsite storage containers for your application. Request your quote today or call (800) 864-3752.
The Best Storage Containers for Construction Site Security
Learn how to keep your storage unit safe and secure, and help deter thieves.
Cool Shipping Container Cabins for Hunting, Fishing and Adventure
See what you how you can turn a used storage unit into a tiny get-away.