Temporary Offices FAQs for Minnesota and North Dakota
Whether your business needs office space in the field, mobile customer service space, or a temporary space for your special event, our storage containers are a safe, versatile solution. No matter how you plan to use a storage container office, there are a number of ways the space can be customized to suit your needs. Here are answers to temporary offices FAQs about mobile office space rentals from Citi-Cargo & Storage.
Temporary Offices FAQs
Do temporary offices have heat and cooling?
You betcha. Our units are climate controlled and weather resistant. We wouldn't have it any other way for our Minnesota and North Dakota customers.
Do container offices have electricity?
Yes, the units have finished walls and electricity installed; 110V outlets and a 125 amp 120/220v sub panel.
Can I add windows, doors, or partitions to divide the mobile office into multiple rooms?
Every unit comes with fully functioning swing doors on one end, side doors for personnel with a lockbox, and screened-in windows. We have experts on staff who can help customize your space. Just let us know what you need.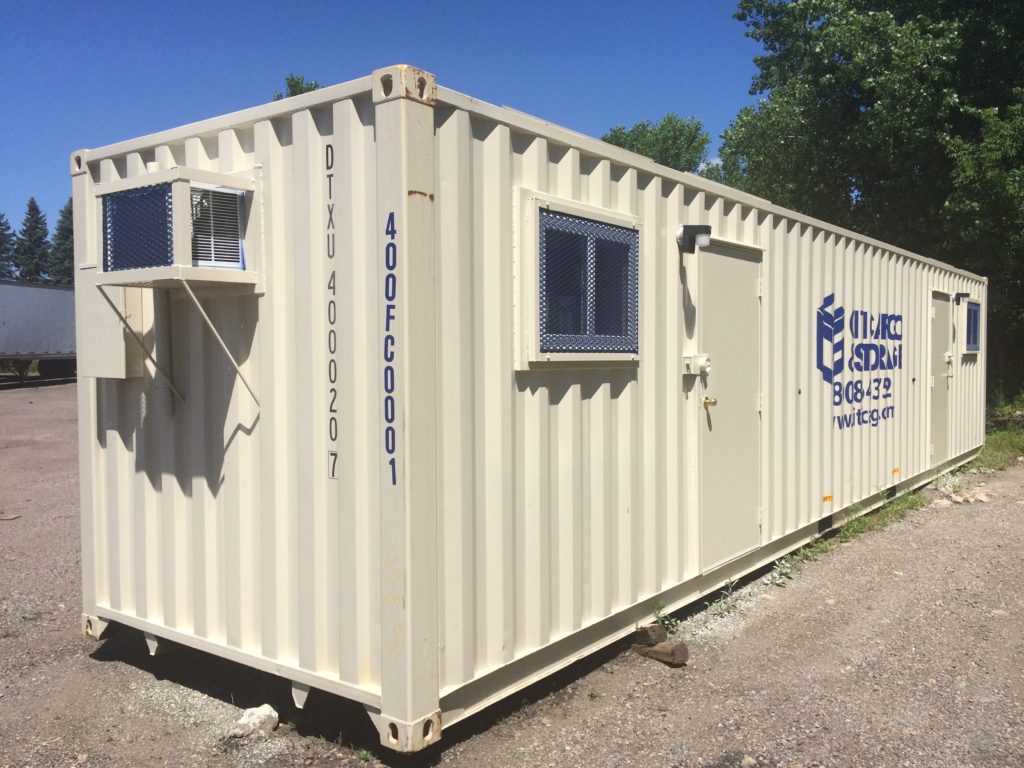 Is a container unit office space suitable for desks, tables, and chairs?
Yes. Our mobile offices are often used for administrative office space, mobile boardrooms, as well as ticket booths, security checkpoints, and so on. See more common applications for temporary offices.
What sizes do portable offices come in?
We construct your mobile office out of a variety of sizes of storage containers, so you can rest assured that you will have the space you need.
External dimensions:
Length options: 15′, 20′ or 40′ (all 0″)
Width: 8′
Height: 8'6″
Internal dimensions:
Width: 82.25″
Height: 91.25″
Do your mobile offices have storage space?
We offer a 40′ office/storage unit combo. The office is 15′ and the storage area (lighted with a walk-through door) is 25′. Learn more about space sizes and features. Additionally, with fully functional cargo doors on all our offices, there can be an element of storage added to any piece we offer.
Will my temporary office be safe for a high volume of traffic?
Many of our clients use mobile office spaces for applications like ticket booths, refreshment stations, and other situations where customers and staff are in and out frequently. Our units sit right on the ground, so there are no stairs, and they have no-slip floors, making entry and exit easy and reducing the risk of falls.
Is it safe to leave my valuables and equipment in my temporary office unit?
As a local leader in the container industry, we're well versed on all the ways thieves try to break into container units. That's why every unit is all-steel and regularly inspected for quality and integrity. Each unit has factory-installed high-security lockboxes, waist-high locking hardware, extra locking rods, and more to make sure your staff and goods are safe and secure.
Can I lease a temporary office in Minnesota or North Dakota on short notice?
Yes, we're often able to accommodate office unit requests at the last minute. In face, we work with many clients with unexpected needs, like disaster relief teams. Contact us to get started.
How does delivery of a rented temporary office space work?
We have a team of experts deliver and pick up your units for you. Here is a guide to follow when preparing for your storage container delivery; the same principles apply to the delivery of temporary offices.
How do Citi-Cargo's mobile office rentals compare to other companies?
First, know you're working with a local company based in Minneapolis/St. Paul, so your business goes right back into your own region, if not your own community.
We believe in personalized service. When you call us, you talk to a staff member. And we have many years of experience, so whatever needs you may have, we've probably seen it before and are ready to help find a solution.
We also believe in flexible terms and reasonable prices. We don't want to sell you anything you don't need, nor will we sneak in extra charges or ask for an inconvenient lease commitment.
Consider Citi-Cargo for your mobile office needs.